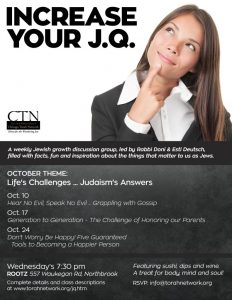 There's so much to learn and so little time. We get it!  That's why we created JQ. A one hour a week Jewish learning opportunity that will dramatically increase your JQ.
Dealing with everything from  Jewish insights into real life challenges to what we believe and why, and so much more, JQ has something for everyone.  And each week is a stand alone session, so come as often as you like.
The format isn't classroomy and preachy, it's easy and warm – but powerful!  Led by Doni and Esti  Deutsch, JQ is guaranteed to help you become a more informed and inspired Jew.
Oh, and did we mention the sushi, wine and refreshments? And that JQ is free of charge? And super conveniently located?
JQ is open to both men and women and begins at 7:30 pm.  Please take a look at the October schedule below. 
Questions? Email us.  To register free of charge, please use the link below.

OCTOBER'S THEME: LIFE'S CHALLENGES … JUDAISM'S ANSWERS
OCT. 10 – 7:30 pm: HEAR NO EVIL, SPEAK NO EVIL … GRAPPLING WITH GOSSIP
Gossip. Jewish tradition teaches that it's bad. Really bad.  Yet it seems like today it's never more than a click away and more difficult to avoid than ever. This session will look at some of the guidance and tools that Judaism teaches to help us deal with this serious issue.
OCT. 17 – 7:30 pm: GENERATION TO GENERATION – THE CHALLENGE OF HONORING OUR PARENTS
It's right there in the Ten Commandments. So we know it's important … but what can you say? it's not always easy! Explore Torah teachings and share practical ideas about doing the best we can at honoring our parents.
OCT. 24 – 7:30 pm: DON'T WORRY BE HAPPY! – THE HAPPINESS DILEMMA
Technological and societal advances have given us almost unlimited opportunities to do and to have whatever we want. Now we just have to figure out how to be happy with it all!  This class will help us discover what happiness is and how and where is it found.