ABOUT CTN

At Chicago Torah Network (CTN), our mission is to empower every Jew – men and women, young and old – along their own Jewish journey, by sharing with them the beauty, wisdom, and relevance of Judaism and Jewish traditions.
For over 25 years, CTN has inspired thousands of individuals of all ages and backgrounds, helping them to discover and develop their own personal relationship with their Jewish heritage.
Below are some of the ways that CTN serves as "Home for the Wondering Jew".
Whether you are looking to participate personally in a CTN program or to you would like to support our efforts and help make it all possible, we welcome your participation.
… Together we can impact generations.
JWRP ISRAEL MOMENTUM MISSIONS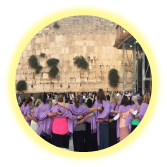 Each year, in partnership with JWRP, CTN brings Jewish parents on subsidized, life-changing missions to Israel. This is truly a journey where they tap into their people, their homeland and themselves. Parents return as prouder and more committed Jews, with a deeper appreciation of Judaism, Israel and the Jewish mission.
The Israel trip and the broad array of CTN follow up programs help parents in their own growth and makes them better equipped to inspire their children, whether still at home or on college campuses, to be part of the Jewish future.
Learn more at www.jwrp.org
---
JEWISH FAMILY EXPERIENCE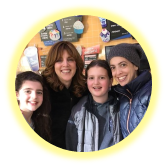 The Jewish Family Experience (JFE), founded and funded by ATT, and run in partnership by CTN and NCSY, is a unique and dynamic Hebrew school that kids actually look forward to attending!
What makes JFE unique is that it is a Jewish learning experience for the entire family. At JFE, CTN Rabbis engage the parents in meaningful, relevant and inspiring Jewish learning, sending the profound message to their children that Jewish learning is important to their parents.  It's beautiful – and provides hope for the Jewish future – to see two and sometimes three generations enjoying Jewish learning under one roof.
Learn more at http://www.jewishfamilyexp.org/
---
HOME- AND OFFICE-BASED DISCUSSION GROUPS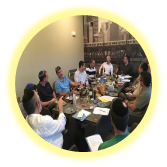 This popular program encourages people to invite friends to their home for informal discussion and Jewish learning in a relaxed social setting.  Topics range from Jewish history and ethics to what Jews believe and why, and more.
Jewish growth in a comfortable and informal environment.
Just the way it should be!
Interested? Email Rabbi Moshe Katz and let's make this happen!  Your friends will thank you!
---
WOMEN'S SHABBAT RETREAT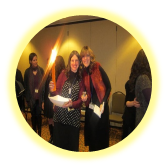 For close to 150 women, many of whom are experiencing their first complete Shabbat, this warm, magical, weekend away provides an opportunity to reconnect with Jewish tradition and with their inner selves – as they relax and recharge together with a group of amazing Jewish women.
It's a weekend with a lot of learning and laughing together – where everyone comes home feeling inspired and empowered.
---
THE CTN TORAH MINUTE AND SHABBAT FAX / EMAIL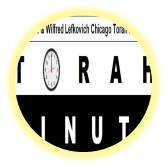 In addition to its many in-person Jewish learning and growth events, CTN produces two popular weekly publications of Jewish thought: Rabbi Moshe Katz's Torah Minute, and the CTN Shabbat Fax / Email.
Written in an easy to read yet thought provoking style, they provide a weekly dose of Jewish knowledge and inspiration to thousands of readers near and far.
To receive the CTN emails
---
SPA DAY FOR YOUR SOUL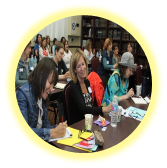 For over a decade, the annual Ilene C. Leon Chicago Conference for Jewish Women has provided an opportunity for hundreds of Jewish women of all ages and backgrounds to connect, support, and grow together as a community.
This "Spa Day for Your Soul" features keynote addresses and breakout sessions by world renowned women educators and community leaders, and is truly an empowering and uplifting day for all who attend.
For more about this year's upcoming Spa Day, visit the Spa Day for your Soul website.
---
CHICAGO YJP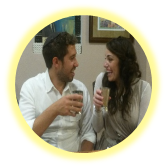 CTN's young professionals program, Chicago YJP, engages Jewish men and women in their 20's and 30's through meaningful Jewish learning and experiences.
With a strong emphasis on teaching Jewish wisdom that will help them build truly Jewish homes and develop meaningful, deep and fulfilling marriages, CTN's young professionals division plays a vital role in building and shaping the next generation of Jewish parents and community leaders.
---
USER FRIENDLY PRAYER SERVICES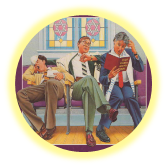 CTN's unique High Holiday Experience is designed for Jewish men and women of all ages who may not be inspired by typical synagogue services.
By combining prayer with informal discussion about the meaning and relevance of specific prayers, for many it is their first positive Jewish prayer experience.
In the words of one participant, "I learned more in those two hours than I did in all my years in Hebrew School!"
---
TORAH PARTNERS
CTN, in partnership with a number of other Jewish outreach organizations in the Chicago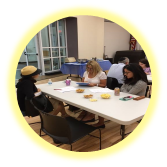 land area, have joined forces to create a unique weekly study program where "Torah novices" are matched with volunteer lay people in the community to explore the Jewish topic of their choice.
While learning in a class and with a rabbi has tremendous advantages, connecting with a knowledgeable and inspired lay person has proven to be a uniquely valuable addition to participants' Jewish journey.
For additional information about CTN programs and sponsorship opportunities, please contact us at info@torahnetwork.org or call 773.761.0400 x207.
THE CTN TEAM
RABBI MOSHE KATZ AND RABBI DONI DEUTSCH
Founders and Directors of CTN
Close friends and Talmudic study partners for over 30 years, Rabbi Moshe Katz and Rabbi Doni Deutsch have been described alternately as "extremely insightful teachers and Rabbis", and at the same time as "really nice guys who are so down to earth".
Looking to create a vehicle to spread their love of Torah and of Jews as far and wide as possible, they co-founded Chicago Torah Network back in 1990 and have partnered in its growth ever since. Rabbi Katz received his Rabbinical Ordination and an Advanced Degree in Talmud at Beth Medrash Govoha in New Jersey and Rabbi Deutsch received his Rabbinical Ordination and an Advanced Degree in Talmud at Gur Aryeh Institute in New York. They both served as founding members of the Chicago Community Kollel where they did post graduate work in Talmud and taught community education classes, before founding Chicago Torah Network.
They also are the co-authors of the highly acclaimed CTN Shabbat Fax/Email and The Torah Minute, weekly publications of Jewish thought that are read by thousands of Jewish men and women of all backgrounds and affiliations throughout the world.
---
ESTI DEUTSCH
Director, CTN's Women's Learning Network and Jewish Bridal Education.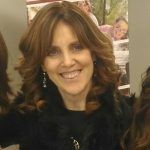 Esti is a mentor and role model to women of all ages and backgrounds, and is much sought after for her advice about relationships, parenting and spiritual growth. A popular and highly respected speaker, with a special passion for inspiring Jewish brides as they begin their Jewish homes, Esti has been invited to speak at Jewish adult education venues in cities around the country on a wide variety of topics.In addition to being a Jewish educator, Esti was an IT Consultant for over 25 years, and enjoys a fulfilling career as a Relationships and Life Coach – but her favorite role is that of a wife, mother and grandmother to her family.
---
RABBI JOSH MARDER
MA, MFT, Director Chicago YJP
After leaving high school at age 16, Josh went on to travel the world, starting in Israel, where he experienced the beauty of the Jewish people, land, and heritage at its best. Upon returning to the USA at his parents' behest, he went to the University of Central Florida and eventually Yeshiva University (YU) at age 17. He graduated YU Cum Laude, after spending a year abroad in Israel studying with Israeli soldiers, at Kerem BeYavneh.
While spending his free time biking and eating salad, Rabbi Josh has taught classes all over the Northeast and beyond. Despite his dreams of a career in Olympic rowing, Josh went on to begin rabbinic studies. After finding his soul mate, Laura, they went on to spend 5 years together in Israel. There, Josh received multiple rabbinical ordinations under the tutelage of the esteemed Rabbi Yitzchok Berkowitz while studying Family Therapy at The Family Institute, Machon Mishpachti.
Josh and Laura spent the past 5 years in the San Francisco Bay Area working for the Jewish Study Network, teaching and inspiring the Jewish community of the Bay Area. Simultaneously, Josh received his Masters Degree in Counseling Psychology at the California Institute of Integral Studies, is a licensed Marriage and Family Therapist, and trained in Emotionally Focused Therapy, a cutting edge form of Couples Counseling.
Rabbi Josh loves to incorporate a synthesis of ancient Torah wisdom with the research and techniques of modern psychology to offer a unique blend of support and insight to the challenges and dreams of the young Jewish professionals of our generation.
---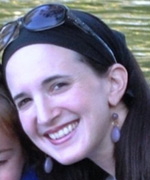 LAURA MARDER
Associate Director, CTN's Women's Learning Network
Laura hails from the deep South (Atlanta, Georgia), where like her husband Josh, she left high school a year early to go and study in the Holy Land. It was while studying intensively at a number of Jewish studies programs in Israel that she developed a passion to share the beauty and depth of Judaism. She did that for a number of years, as the Women's Program Director at the Atlanta Scholar's Kollel for several summers, and as a teacher in various venues in the New York area and at Jerusalem's Shearim College for Women. Most recently, Laura spent five years as the Women's Coordinator for the Jewish Study Network in the San Francisco Bay Area where she taught crowds of all backgrounds, provided one-on-one Torah mentoring, and created innovative and rich Jewish programming catered specifically for women. Her classes varied from "Love, Dating, and Marriage," Women in the Bible, to in depth understanding of Biblical texts, and more.
In addition, Laura completed her Masters in Clinical Social Work at Hunter College in NYC and did post graduate training in Family Therapy. She has counseled women, adolescents and families, and is sought for sage advice to many who know her.
Laura's warm personality makes everyone around her feel good, and she is looking forward to welcoming you in her new home in Chicago. Laura and Rabbi Josh love having Shabbos guests – and Laura's baked goods have been known to make people swoon! And, yes, along with offering workshops of depth and insight from her breadth of knowledge, she offers cooking classes for Challah baking and other favorites of the Jewish menu, like sushi, and beyond!
---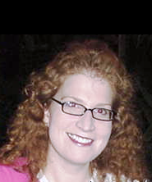 SHARON SCHWARTZ
Director of Programming
After successfully practicing as a lawyer, Sharon left the private sector to do what she loves – helping to run organizations that provide vital services to the Jewish community. After serving as Midwest Region Director of Chai Lifeline, an international organization that provides a broad range of support for seriously ill children and their families, Sharon joined CTN and has been an integral part of the CTN Team for the past four years. Her many talents, attention to detail and superb organizational skills have helped CTN programs – everything from the annual Israel Mission and the Spa Day for the Soul to classes, special lectures and Holiday programs and more – run very smoothly and professionally.
---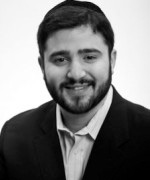 RABBI YEHUDA POLSTEIN
Director, 'Jewish Family Experience' Hebrew School
An inspired and enthusiastic informal educator, Yehuda has been active in Jewish communal work and Hebrew School programming for over ten years. After receiving his Rabbinic ordination in Jerusalem, Yehuda served as Chaplain for Meor, a Jewish student group at Northwestern University.
In addition to his role at Jewish Family Experience, Yehuda is the Director of M.I.E. Torah High, a unique after school Jewish studies program for Chicago area high school students and is the founder and Director of the Senator Mark Kirk Israel Scholars program, which educates high school students about Israel; its ethics, and its values.
---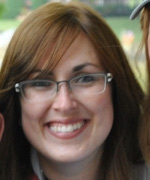 MASHI POLSTEIN
Educational Director, 'Jewish Family Experience' Hebrew School
Mashi is a passionate educator whose use of drama and contemporary expressive technique has inspired teens the world over. She is the founder and former director of Torah High: For the Arts, a groundbreaking initiative that combines traditional Jewish learning with a progressive arts-based education. While studying theater and psychology at York University Mashi began developing a drama infused curriculum that would eventually be used as a medium to teach an accredited Jewish Ethics and Values Course. After getting married and moving to Israel she continued to teach drama at Emunah V'omanut an arts-based seminary in Jerusalem.
She recently moved back to Chicago with her husband and two beautiful children. Mashi advocates for the use of arts in the classroom to create exciting, dynamic, and impactful lessons. She aspires to help students develop and nurture their creative sides, and to use their gifts to impact the world for the better.