Welcome and thank you for your interest in this unique High Holiday experience. Where you will go home inspired, not tired!
Please note that space is limited, advanced reservations are required and there is a 50% advanced purchase discount! So we highly recommend buying your ticket(s) now!
Click to scroll down and purchase tickets
The good news? If you have kids (K-12) that's awesome – bring them along! We have specially designed, professionally run programs for each age group that will make their Rosh Hashanah more meaningful than you ever thought possible! Want some more good news? There is no extra charge for kids – it's all included in your ticket price! To purchase tickets simply scroll down and select the number of tickets you wish to purchase and hit the PURCHASE button. That will take you to the next page where you will be able to provide your credit card information and the names of participants. If you are bringing children you will also use that page to tell us the number of children in each age group.
This special Rosh Hashanah program is a joint project of The Lois & Wilfred Lefkovich Chicago Torah Network (CTN) and Jewish Family Experience Hebrew School (JFE) of Deerfield. A special thank you to Darchei Noam of Glenbrook for providing us with a location for this program in their beautiful new home!
Thanks again for joining us – we look forward to experiencing a "More Joy Less Oy" Rosh Hashanah with you!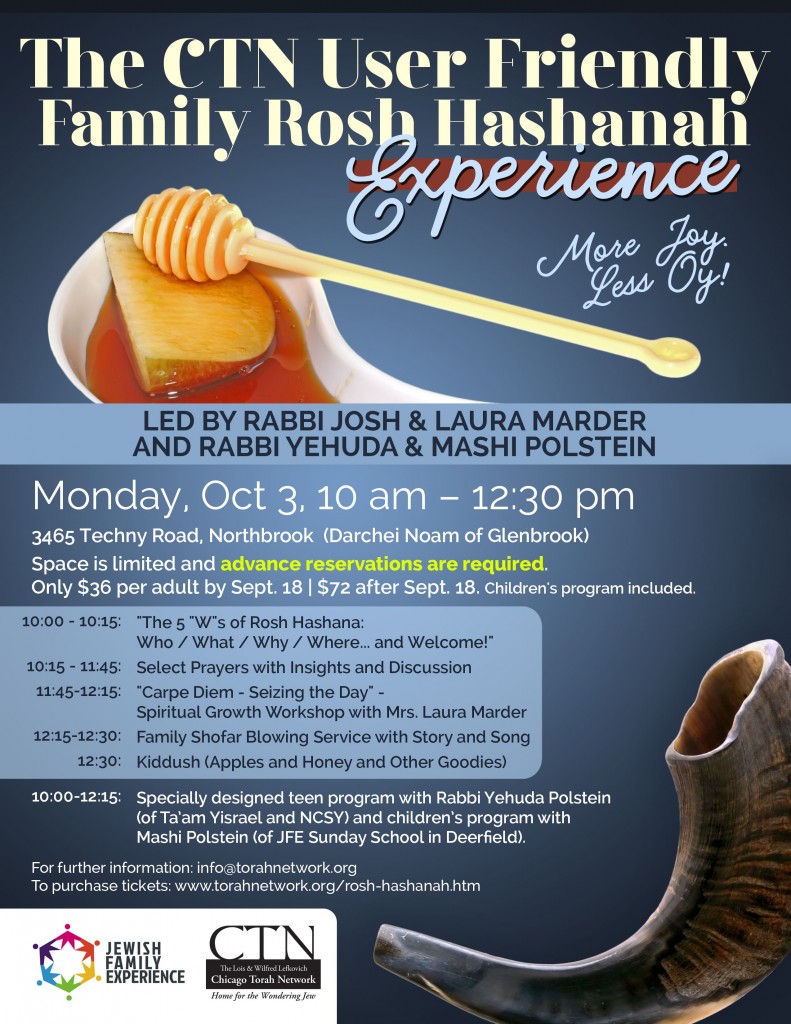 Make Your Reservation(s) now